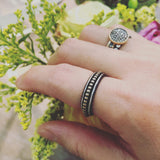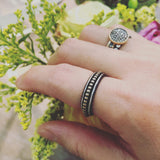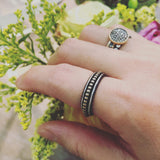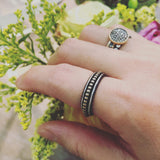 14k dotted stackable ring set of 3 - one 14k yellow gold dotted band
 Pave Diamond series is one of Chihiro's latest additions to her collection, and it is her interpretation of timeless classic look of Art Deco style with a contemporary edge. She is using pave diamond beads and charms, (natural color diamonds are pave set into sterling silver beads) and setting them into sterling silver frame. Chain and findings are all oxidized sterling silver. Accent beads on chains are faceted labradorite and pyrite beads. New 14k gold items are added to the collection.
Set of 3 together : 3/4" x 1/4" x 3/4" 
One oxidized sterling silver band with 14k gold dots all the way around the ring, 2 oxidized "triangle" band with top edge highlighted. 
Title
size 5
size 5.5
size 6
size 6.5
size 7
size 7.5
size 8
size 8.5
size 9
Tell more about your product, care instructions, country of origin, manufacturer information, matching colors and accessories.