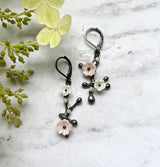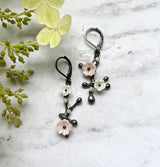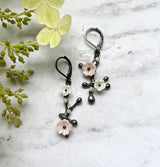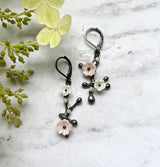 Sakura dangle earrings with lever backs
Sterling silver molded into organic branch like shape, and Mother of Pearl flowers and buds are added with sterling silver wire. 
Each shape is slightly different. Sterling silver earwires are attached to the back. 
Small: app. 1 1/4"- 1 1/2" length 
Medium: app. 1 1/2"-1 3/4" length
Large: app. 2"-2 1/2" length 

Tell more about your product, care instructions, country of origin, manufacturer information, matching colors and accessories.